Alberta Education Funding Cut Reduces Local Student Support
April 25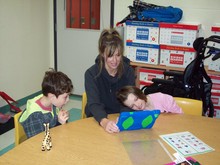 Recently Wild Rose School Division was informed that the funding to the Central Alberta Regional Collaborative Service Delivery (CA RCSD) is being reduced by approximately $1,000,000 starting the 2017-2018 school year. The CA RCSD is a partnership with nine other school divisions that brings together therapists, school personnel and families in order to better support vulnerable students. This cost reduction will see WRSD lose the support of one of our registered social workers and student access to Occupational Therapists, Speech and Language Pathologists and Speech and Language Pathologist Assistants.
The number one challenge in our division and in Alberta is the significant mental health issues faced by our students and their families. Losing the support of these specialists will have a direct impact on the speech, language and reading skill development of our elementary students.

"The consequences of this cut are shocking," stated Chair, Russ Hickman. Our vulnerable young people count on these essential RCSD services. We will not and the province cannot abandon them. I hope the Government of Alberta reconsiders this decision."

Every year WRSD subsidizes the Inclusive Education grant we receive from the government with an additional $1,000,000. Despite these additional dollars we are still having to cut inclusive education staff and support due to inflation and rising costs. The current funding model does not provide WRSD with an adequate amount of support dollars when you look at the number of high needs students we have.

Moving forward WRSD  and its other education partners are working together to get funding restored. Jurisdictions are calling for meetings with the government to let them know the consequences of this decision and push for restored funding.