Further Testing Reveals Evergreen Elementary Repairs Very Risky
June 12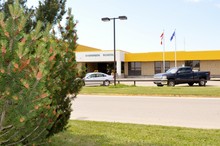 After further structural and soil testing and an investigation into the crawlspace air quality, Alberta Education and Alberta Infrastructure have determined the Evergreen School Modernization & Crawlspace Remediation repairs may require additional funding. Additional funding may be required due to the substantial construction challenges and increased costs associated with the modernization. This puts the project at a high risk to move forward at its current scope.

As a contingent option, Alberta Education has requested Wild Rose School Division to submit alternative proposals for the replacement of the Evergreen School Modernization Project. New proposals will be required to follow the same funding parameters as the original school modernization approval of an estimated nine million dollars.

"This news was very unexpected and is a sad turn of events for Evergreen Elementary," stated Chair, Russ Hickman. "We will now work closely with the community of Drayton Valley to ensure their needs are best met."

The Wild Rose School Division Board of Trustees will discuss possible options for the reallocation of these funds at their June 20 board meeting, which will then be submitted to Alberta Education. Our goal is to ensure these funds are used to increase the condition and enrollment capacity of our schools in Drayton Valley.