Evergreen School Modernization Receives Big Upgrade
October 25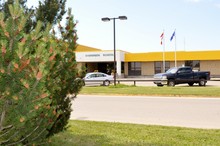 Wild Rose School Division is excited to announce that the Evergreen School modernization has been upgraded into a full replacement school. Recently, Alberta Education decided the excessive risks associated with the modernization project warranted that a full rebuild will work best for them and the community. Due to the school's location in the community, proximity to the bus hub, community park and ice rink it makes sense for the new Evergreen School to be built on the same property.
"I would like to personally thank the Minister of Education, David Eggen, for approving a new School for Drayton Valley," stated WRSD Board Chair, Russ Hickman. "I know that Evergreen School held a special place in the hearts of many in our community and I know how much this rebuild means for the future of our community."
The replacement school will have an opening capacity of 250 students and the potential for expansion to 400 students if justified by enrolment growth. Wild Rose School Division will continue to work closely with Alberta Infrastructure as the planning phase of this project evolves.
"Bringing a new school into a community is one of the most exciting parts of my job," stated WRSD Superintendent, Brad Volkman. "I'm really looking forward to working with the community so we can ensure this new school best fits their needs and the future learning needs of new students."