Pioneer Teacher Wins Prestigious National Music Award!
February 6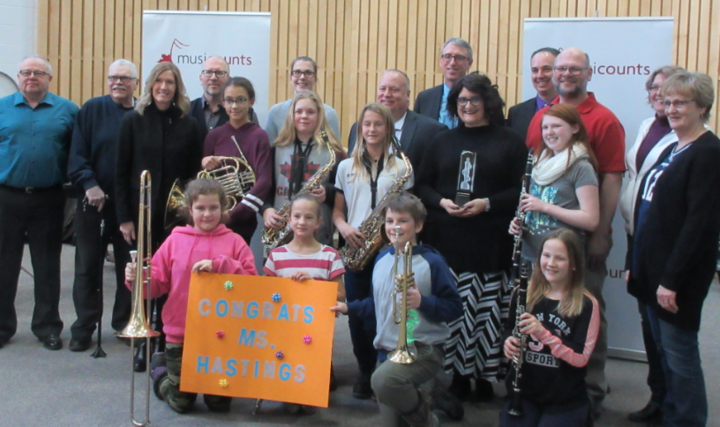 The MusiCounts Teacher of the Year Award was established in 2005 to recognize and honour exceptional music teachers who strive to preserve the livelihood of music education in their school and community. The award pays tribute to the accomplishments of one exceptional music teacher each year.  Nominations are received from across the nation; this year, our very own Kim Hastings has been recognized as the winner of this prestigious award!
Ms. Hastings is in her 32nd year of teaching, the last 28 of which have been teaching music in Wild Rose School Division at Pioneer Middle School in Rocky Mountain House, Alberta. Ms. Hastings possesses incredible passion for teaching music. She has advocated tirelessly for music education over the years through all of the various educational, curricular and funding changes that have taken place. She desires that every student be exposed to the joy of music and have the opportunity to pursue it further if they so choose.
Ms. Hastings also advocates for music education beyond her own school. She has over the years been part of two provincial boards: Music Alberta (at the time of its existence) and the Alberta Band Association. While serving on the Alberta Band Association Board, Ms. Hastings was part of resurrecting the MUSICOM magazine which collects and publishes information and articles from music educators across the province.
Ms. Hastings has been recognized for her excellent work in the area of music over the years, including:
Twice received the Rocky Mountain House Mayor's Award for contribution to the Arts – 1999 & 2016
Recognized with the Wild Rose School Division Award of Merit - 2003
Inducted into the Phi Beta Mu Bandmasters fraternity
Received the Alberta Band Association Elkhorn Award in 2003 for Director of the Year
Was named a finalist for the Alberta Excellence in Teaching Award - 1997
Most Outstanding Junior Concert Band at the Alberta International Band Festival South – 1998, 2001, 2013 & 2018
Alberta Band Association Provincial Festival Most Outstanding Level I Concert Band - 1996, 1999 & 2000
Alberta Band Association Provincial Festival Adjudicator's Choice Award
16 GOLD awards – Alberta International Band Festival South
Superior Ratings 20 of the last 22 years at the ABA Provincial Festival of Bands
3 GOLD Awards from MUSICFEST CANADA (The Nationals)
A film crew from Toronto arrived at Pioneer Middle School to surprise Ms. Hastings with the news that she was indeed this year's recipient.  When asked how she felt about her win, Ms. Hastings said it was "a real surprise" and that she was "really blessed". Kim has been invited to accept her award at the 2019 Juno Awards, hosted by Sarah McLachlan in London, Ontario on March 17.
Congratulations, Ms. Hastings!