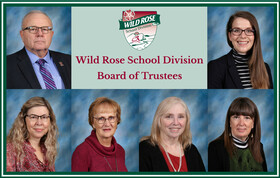 Hate Symbols and Speech
Liam Bolton, a former student of the division, presented several examples of encountering hate symbols and bigotry in Rocky Mountain House. The Board was very impressed with his activism and dedication to this cause, and they committed to creating an anti-racism / anti-hate symbols policy for Wild Rose School Division.  
Rocky Christian School Out of Country Field Trip
Principal Robert Duiker and trip organiser Samantha Smith presented the details of the mission trip to Belize that they would like to plan for their current grade 8 & 9 students during spring break 2023. The board sees the value in these types of experiences, but have tabled a final decision for approval in principle until the May board meeting.
Locally Developed Courses
The Board approved two courses for use in Wild Rose School Division; Fire Rescue Services 15-3 and Foundations in Industry Workplace Safety 35-5.
Clearwater County / Town of Rocky Mountain House Joint Meeting, Red Deer Catholic School Division Joint Meeting, First Nations, Métis and Inuit Education Committee, Alberta School Council Association Workshop, Wellness Update, Grade 1-3 Learning Disruption Grant Update, Curriculum Update, Summer School, Joint Use Planning Agreements, Enhanced Cleaning in Schools, Staff & Student Absences, Capital Project Update,  Student Safety & Supervision, Indigenous Languages in Education Project