Board Highlights - November 24, 2015
December 2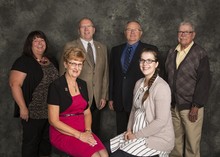 Annual Education Results Report & Three Year Education Plan for 2015-2018
The Board of Trustees approved the 2014-2015 AERR & Three Year Education Plan as presented. This report offers an in depth breakdown of class sizes, budget and other relevant information that outlines the direction and current realities of the Wild Rose School Division and can be found here.
Auditor Phone Presentation
The Board of Trustees and Senior Administration met with Peggy Weinzierl, from Gitzel KrejcDandPeterson to review the audited Financial statements for the year ending August 31, 2015.

Board Motions

The Board of Trustees approved the that the November Trustee Expenses, Audited Financial Statement for the Year ending August 31,2015 and revised 2015-2016 budget as amended.
Confluence Campus Meeting
Drayton Valley Community Outreach School Lease
FNMI Trustee Research Update - The following needs to be considered: (1) how would we select an FNMI trustee that would be representative of the 3 First Nations Bands and Metis families within WRSD, (2) how would this new position be funded given our current administrative costs, (3) research regarding proper protocols and (4) development of Board Policy.  
Maintenance and Facility Updates - Lochearn School Roof and Gymnasium Evergreen School Portables Drayton Valley Bus Hub
PennWest UFA, ATB, 4-H Annual Clothing Drive Partnership -  WRSD wrapped up the Second Annual Clothing Drive on Monday November 9th. Both communities, Rocky Mountain House and Drayton Valley have really stepped up to support his initiative. School Family Wellness Workers  submitted a needs list for each school and all  needs were taken care of plus we had enough clothing left over to help out the local woman's shelter, Brighter Futures and Caroline Family Center.
SLA Update - The grade 3 teachers have completed the marking and administration of the grade 3 student learning assessment pilot. Teachers came together in the north and the south to collaboratively discuss, reflect on and grade the numeracy and literacy performance tasks. Teachers shared that the assessments were much easier to use and provided more meaningful diagnostic information about their students. Reports on the results are to be shared with parents in a conversation explaining that the results are from a pilot administration.