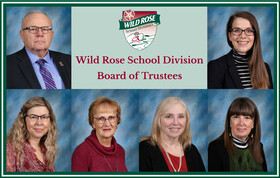 Capital Plan 2024-2027
The Board approved the WRSD Three Year Capital Plan (2024-2027) which proposes the continued work of the board to right-size all of our schools by prioritizing the Village of Breton Schools, the Town of Rocky Mountain House schools, and a modernization of the Frank Maddock High School in Drayton Valley.

International Field Trips
Out of country field trips for spring break 2024 were approved in principle for Breton High School and Frank Maddock High School.  Breton students are planning a trip to Italy, and Frank Maddock students are planning a trip to Spain and Portugal.

Friends of Education
The board made a motion to nominate Eagle Point Blue Rapids Parks Council in Drayton Valley for the ASBA Friends of Education Award for the continued support they provide to local students.  The Eagle Point Staff offers a range of high-quality environmental, experiential Education Programs, that are available in any season and are targeted to teachers, students, and community organizations. These programs help to encourage youth and all citizens and visitors to be active outdoors and to connect with nature while respecting our local wild places.

Retirement and Long Service Awards Celebration
June 14, 2023 was the date chosen to hold the annual retirement and long service awards celebration.  It will be held in Drayton Valley this year, with more details to follow.
Action for Energy Movie and 10 Day Challenge, Supporting and Retaining Youth in Drayton Valley, Brazeau County/Village of Breton/Wild Rose School Division Joint Meeting, START Catholic/Wild Rose School Division Joint Meeting, Breton High School's Corey Colwell receives award, WRSD Indigenous Education Department, WRSD Student Services Department, Family Oriented Programming, WRSD Support Staff Conference, Provincial Curriculum Coordinators Summit, March ELL/EAL Count Numbers.