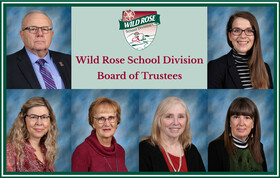 Accountability Reports
The Board heard the highlights from  Technology Accountability Report, including the savings this department has realized from their fibre optic and VoIP telephone projects.  
The Director of Maintenance and Facilities presented his Facilities Accountability Report highlighting the closure of an increased number of service requests, capital plan process progress, boiler replacements and work done in playgrounds across the division.

MLA Mark Smith and MLA Jason Nixon
The Board discussed several topics with our MLA's including an update and thank you for new WRSD schools, concerns regarding the draft curriculum content and implementation schedule, the impact of rising insurance costs, flexibility regarding school division reserves, continued support for student learning gaps and Covid-19.
Amber Lights Law on School Buses
The Director of Transportation joined the meeting to give clarity around the use of amber and red lights on the school buses, the responsibilities of the driver when making stops, and the goals of these procedures.  
WRSD Vaccination Status or Testing Update, Umbrella School Council Meeting, Repsol Donation, Obsidian Energy Christmas Donation, Capital Projects Update, Building Teacher Capacity in Learning Services, French Immersion Video Series, Drayton Valley Community School Resource Officer Position Update, Elders Circle.