Leduc Co-op donates $40,000 to Eldorado Elementary
June 22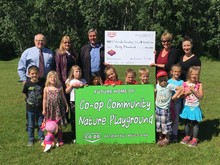 Wild Rose School Division is excited to celebrate that Leduc Co-op is helping to rejuvenate a playground in Drayton Valley.
The Eldorado Elementary School has received a $40,000 donation through Co-op Community Spaces, a funding program supporting recreation, environmental conservation and urban agriculture projects.
"The funds will be used to renovate the school's playground. With an exciting play structure and landscaping, the existing, underused space will become a vibrant, engaging area for youth throughout the community,' stated Rick Polasek, General Manager of Leduc Co-op with Jennifer Landers representing Eldorado Elementary School and Wild Rose School Division.
Moving forward, construction will start on this project in early August with completion by the start of school in September. For more information on the design of the playground click here
"I am always amazed by the support of Drayton Valley and the surrounding communities," stated Eldorado Elementary Principal, Andrea Hodges-Payne. "I can't wait to see our school come together and I know this playground will be exciting for all of our students and parents."
Click here to read the Leduc Co-op Media Release.