Scott Kupsch Selected as New H.W. Pickup Principal
March 23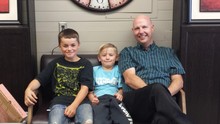 Wild Rose School Division is pleased to announce that current Evergreen Elementary Principal, Scott Kupsch has been selected to be the new H.W. Pickup Middle School Principal for the 2017-2018 school year. Acting Principal, Michael Rosentreter will be returning to his position of vice principal.
"I would like to personally thank Mike for the job he did stepping in midway through the school year and never missing a beat," stated Superintendent, Brad Volkman. "I'm excited for what this change will bring to the community and I know the caring student-first culture Scott created in Evergreen will continue at H.W. Pickup."
Scott has been working with WRSD for the last 22 years as a teacher and administrator.

"This is a tremendous opportunity for our community. I have spent my whole life in Drayton Valley and am proud to have the chance to contribute to growing our strong educational system through the promising practices we will implement in the middle school setting," stated Evergreen Elementary Principal, Scott Kupsch. "I know many staff that are already in place, and can see the amazing potential in partnering all of them with the teachers who will join us in this new adventure. Mike and I have already spoken and we are buzzing with ideas."