Thank You Drayton Valley
September 12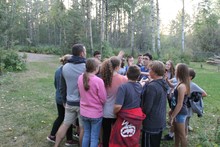 To the students, staff, parents and stakeholders of the Drayton Valley Schools.
The Wild Rose School Division Board of Trustees and administration would like to thank our students, staff and parents in Drayton Valley and Brazeau County. Your cooperative response to the temporary closure of Evergreen Elementary School and new grade configurations in our Drayton Valley schools has been amazing. Despite these challenges, students, staff and parents have demonstrated excellent understanding and resilience, with many viewing this transition as an opportunity for positive change.
There is no doubt our new grade configurations will change the culture at many of our Drayton Valley schools. Frank Maddock High School has welcomed our grade 9 students with open arms. These students will now enjoy some of the flexibility, responsibility and option classes available in a high school. H.W. Pickup School will experience the most dramatic change by welcoming grade 5 and 6 students and a new middle school philosophy. Aurora Elementary and Eldorado Elementary will have a primary focus with grades K-4. Drayton Christian School has significantly increased its enrollment as more students and families choose alternative programming where the curriculum is taught through the lens of a Christian worldview. Drayton Valley Community Outreach School will continue to offer flexible programming for students who desire to learn in a more personalized setting at a pace of their choosing.
Of course, we are very excited about the modernization of Evergreen School and its reopening in three years time (if all goes as planned). Prior to the reopening, we will host consultation meetings with the public to help determine what the future grade configurations should look like at all of our Drayton Valley schools.
It is important to note that in addition to the changes listed above, the modernization of Evergreen School and adjusted grade configurations will also increase our utilization rates and overall efficiency. This will enable us to pursue the modernizations of additional Drayton Valley schools in the future. In fact, this is all part of a larger plan to ensure all of our Drayton Valley schools are safe and welcoming places, designed to enhance and maximize learning. We also want to thank Alberta Education, Alberta Infrastructure and ONPA Architects for their support and guidance with this process.
Please contact the Wild Rose School Division office if you have any questions or concerns.