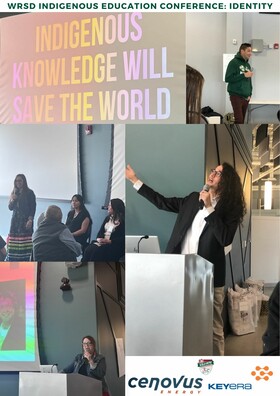 Wild Rose School Division was excited to host an Indigenous Education Conference on April 12 at the Clean Energy Technology Centre in Drayton Valley. Speakers from across Turtle Island came to contribute to the learning and success of this day. Elder Wilson Bearhead started the day with an opening prayer followed by greetings from the Board of Trustees from Charlene Bearhead and a Land Acknowledgement from the WRSD Superintendent Brad Volkman.
Sean Lessard of Montreal Lake Cree Nation in Saskatchewan shared his story of supporting Indigenous youth to find their path and their voice by allowing their gifts to "Bubble Up". His humor and stories based on his life made him both entertaining and relatable.
Sharon Morin opened her presentation with the story of her Métis roots from Lac Ste. Anne, followed by  highlights of Métis contributions to COP27 in Egypt. She shared many success stories of the Indigenous students that she is supporting. Sharon is the daughter of the late Thelma Challifoux, Senator of Canada (1997-2004) and is the Project Manager for Women of the Métis Nation.
Michael Redhead Champagne, a member of the Shamattawa First Nation, wowed the crowd with his enthusiasm and positive energy. His powerful message referenced the circle of influence and how we should consider that within our decision making.  He wisely noted that people with actual lived experience should have the most power and influence over the decisions being made. Michael's energy and sharing of his story captivated the audience.
The day ended as powerfully as it started with a Women's Panel that consisted of Lisa Cruickshank- a Métis educator descended from the Lac La Biche area, Inuksuk MacKay- an Inuit artist from Yellowknife and Jill Ladouceur- one of our very own Wild Rose educators originally from Kebaowek First Nations. Each one shared how their experiences, past and present, have shaped them to be the strong women that stand before us today.  Their common theme was that they celebrate their identity, recognizing how their cultural teachings and the guidance of their Elders are foundational to their individual successes and their ability to uplift others.
Elder Glen Waskewitch ended the day in a good way with a closing prayer.