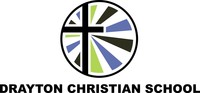 Drayton Christian School
Grades:
K-9
Mrs. Terri-Lynn Emms
4762-50 Street
Drayton Valley, Alberta
T7A 1P1
Phone: 780-542-7066
Fax: 780-542-2274
School Supply Lists
Introduction
Drayton Christian School is a publicly funded alternative program of Wild Rose Public Schools. We are a non-denominational Christian School whose staff members and students come from a variety of churches and denominations. All staff members that work at D.C.S. support the educational creed as outlined by the D.C.S.S. (our parent council), are active in a church fellowship, and practice a Christian Lifestyle.

D.C.S. teaches the Alberta curriculum from a Christian perspective, integrating the Bible into all levels and areas of instruction. All students in D.C.S. participate in Bible classes throughout the week, in addition to the integration of the teaching of the Bible within all subject areas.

Within the classrooms, the students participate in daily devotions and prayer. Weekly chapels are held involving students based on grade level. Students from ECS to Grade 2, Grades 3 to 6, and Grades 7 to 9 meet as a group each week to share in prayer, song and discussions regarding the Bible's teachings and living as a Christian person. As well as divisional chapels, a monthly all school chapel is held.
Motto
Be excellent at what is good.
Romans 16:19
Mission
We are a learning community that inspires academic success as we emphasize a Biblical worldview through example and instruction, recognizing the Lordship of Jesus in every dimension of life.
Beliefs
Vision Statement of Drayton Christian School
DCS will offer a strong Christian program that instills excellence in academics, fine arts and athletics while following the example and teachings of Christ.
DCS will equip students to honour God in everything, to choose lives of integrity, and become positive contributors to society.
DCS will be a visible light to the community, representing Christ through worship, discipleship and outreach opportunities.