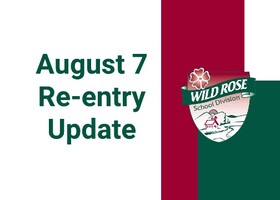 As we prepare for the start of the 2020-21 school year, WRSD understands that there are many questions about what this will look like for staff and students. Although we may not have all of the answers to those questions, many of them are answered in our Re-Entry Guidelines. We realize that re-entry may be initially uncomfortable for some. Wild Rose School Division is committed to helping all of our students, families and staff make a smooth transition to the 2020-21 school year.
The full re-entry guidelines for WRSD, as well as the link to Request Teacher-Directed at Home Learning can be found here. 
Comments
I'm wondering if I send my kids back (K-6), if one of mine is sent home with symptoms (runny nose, cough, fever, etc.) do all my kids/family need to isolate at home for the 10 days before coming back to school?

I wondering if I have symptoms, over the winter can my kids still attend?

I'm wondering how it will be handled if one breaks the masks rules.

I'm wondering how we will confirm if someone actually goes and gets tested and is negative. How do we prove that, do we have to?

There's lots I'm wondering about!
Greg Wedman (Deputy Superintendent)
Posted
Hi Heather, thank you for your questions. If a child in your household is sent home with symptoms, the rest of your family is not required to stay home / isolate for 10 days. If, however, they have a positive test, your family, who has had close contact, will need to isolate. It would certainly be a good idea for the rest of your family to stay home, as a precaution, but if they don't have any symptoms, there is no requirement to stay home.

The same thing goes for yourself having symptoms.

If students are struggling with wearing masks properly, we will be dealing with it much like some other rules. We will work on correcting them. If it becomes a refusal issue, then they will be put in the teacher-directed at-home learning cohort.

As for the proof of negative testing, we are working through those answers this week, along with a number of others.

We're all trying to figure this out together!