Board Highlights - April 19, 2016 - Feedback Requested
April 21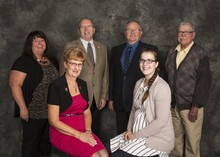 Feedback Requested for Corporate Sponsorship Policy

During the April 19, 2016 Board Meeting, the Board of Trustees approved and endorsed corporate sponsorships. A condition of this approval was that only the Superintendent, in consultation with the Board and school administration, may enter into a sponsorship agreement.  
A new draft Administrative Procedure has been developed to support this Board Motion. This new procedure provides direction on Corporate Sponsorship and ensures adequate controls are in place for all sponsorship opportunities. All corporate sponsorship opportunities will be evaluated with regards to risks, benefits and whether or not the sponsorship aligns with the mission and priorities of the school and WRSD.
Click here to view the draft Administrative Procedure 562 and click here for more information.

Suspension of Nordegg School for 2016-2017

The suspension of teaching services at the Nordegg School for the 2016-2017 school year was approved by the Board of Trustees. This does not mean the school is shutting down. Depending on parent interest, economic factors and other issues, consideration to offer teaching services in Nordegg will be discussed in the future.

Superintendent's Report


The following items were discussed in the Superintendent's Report.  For more information click on the link above:
David Thompson High School Modernization Project Meeting
January 2016 Diploma Results
2016-17 Education Plan Focus
Drayton Christian School Agreement Update
Dual Credit Opportunity
Print Version - Board Highlights - April 19, 2016