Board Highlights - December 15, 2015
December 21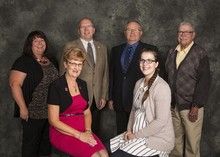 Out of Country Field Trip
The Board of Trustees granted approval in principle to the West Central High School field trip to Spain and Morocco which is planned to take place from March 23, 2017 to April 2, 2017.
The discussion to approve this trip also moved into the area of supporting all international field trips in WRSD. It was decided that the Board of Trustees will be giving their support to all international field trips in WRSD. More information on this decision can be found here.


Alternative Pre-K Programming Offers
The Board of Trustees approved the Lease Agreements with the Community Connections Child Care Center and Parentlink Center. The Board is optimistic that both of these programs will bring a variety of benefits to our communities, students and parents. 
The following items were discussed in the Superintendent's Report, for more information click on the link above:
Syrian Refugee Preparedness
New Drayton Valley CAO Meeting
Stoney Education Authority, Nordegg School
School AERR/3 Year Education Plans and Principal Growth Plans
Drayton Valley Community Outreach School Building Lease
Day Care Building on WRSD Property on ERE Land
Relocation of ParentLink Center from ERE Basement to ERE Vacant Portable
Plan for Addressing the Auditor's Recommendations