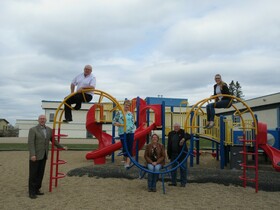 Letters of Support to Clearwater County
The Board of Trustees reviewed a letter of support for the Clearwater County's Broadband Internet Project that aims to deliver high speed Internet connectivity throughout the county.  They also reviewed a letter of support indicating that if the population warranted re-opening a school in Nordegg, this project would be a mutual benefit.  The Board also discussed their appreciation for the ongoing supportive partnership they enjoy with Clearwater County.
Elections
In a first step towards preparing for next October's municipal elections, the Board of Trustees appointed Secretary Treasurer, Ama Urbinsky as the Returning Officer.  More information regarding the elections can be found on our website.
The Honourable Mr. Jason Nixon, MLA for Rimbey, Rocky and Sundre
The Board enjoyed a candid conversation with our MLA, Jason Nixon regarding the need for financial support in education for wellness programs, the weighted moving average funding formula, and Covid-19's affect on it, regulation concerns around the Choice in Education Act and the recent Transportation Task Force recommendations.  
The Board also took this opportunity to express our gratitude to Mr. Nixon and the government's support of their capital plans that has resulted in several new replacement schools in our division.  These capital plans have allowed Wild Rose School Division to meet our community needs, while achieving proper utilization rates of our schools, which contributes to providing powerful learning opportunities for all of our students.
Early Learning, Provincial COVID-19 Measures and Mandatory shifts in learning, Alberta School Athletic Association Hall of Fame Award, New curriculum update.