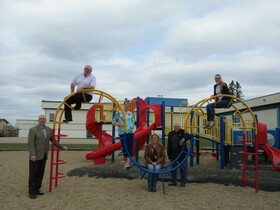 Board to Advocate for School Staff
The Board of Trustees made a motion to advocate the government for the inclusion of school staff in the high priority category of the vaccination program.  School staff works closely with large numbers of students, and although they follow all protocols, they feel there is greater risk in transmitting Covid-19 between students and staff.  School staff will also be working with the largest population of unvaccinated people in the province.
Drayton Valley Replacement School Enhancements
The Board approves spending approximately $638,000 of capital reserve funds to cover the cost of adding an office space enhancement, and a multi purpose room enhancement to the Drayton Valley replacement school.  The initial design for the Drayton Valley replacement school does not include IT office space, which is currently utilized by our IT employees that provide service to all of our north schools.  This would be an enhancement of approximately 24 m2.  Additionally, a multipurpose room that would allow for board meetings, administrator meetings and professional development opportunities in the new replacement school would eliminate the need for renting space in Drayton Valley.  This would be an enhancement of approximately 144 m2  The Board and Administration continues to work with their community partners in Drayton Valley to include any enhancements that would improve this project for the town.
Trustee Expense Claims
The Board is working towards streamlining their expense claim process, by utilizing the Atrieve accounting system that the division currently uses.  Expenses would still be posted for the public to view, but the approval process may not happen at the public meetings.
Corridor Schools Naming Committee
A committee has been formed to bring names for the two new schools in Condor and Leslieville to the board for approval.  The committee consists of school administrators, staff and parent representatives, and the Superintendent of Schools.  They will be collecting feedback from students, staff and community members over the coming weeks, and bring three potential names for both new schools to the Board for consideration.
Corridor Schools Naming Committee, Assurance Framework & Strategic Planning Process for 2021-2022, 2021 Trustee Elections, Early Learning.