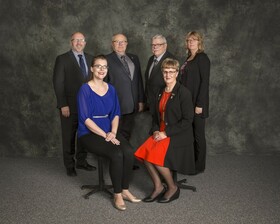 Board Highlights - January 23, 2018
The Resilient Youth in Stressed Environments (RYSE)
The RYSE research project team presented information to the Board regarding the study that will be taking place in Drayton Valley.  They will be interviewing High Schools starting in February.
Trustee Benefits - HSA/WSA
Trustees moved to approve the addition of a Health and Wellness Spending Account to their compensation package.
Accountability Reports
Trustees heard reports on Wellness, Student Services and FNMI.  Funding continues to be a primary concern in these departments.
School Cancellation
The Board discussed possible changes to the Administrative Procedure 133 - Inclement Weather to clarify the procedure surrounding bus cancellations.
First Nations, Metis & Inuit Collaboration
Resilient Youth in Stressed Environments (RYSE)
David Thompson High School Modernization Update
Dominica Visit
VR in the Classroom
Evergreen Elementary School Replacement School Update