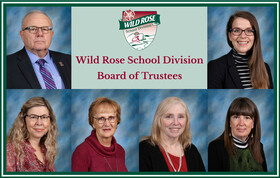 2023-2024 Budget
The Board approved the 2023-2024 budget which is projected to be a $377,642 deficit budget.  The deficit budget will be fully covered by accumulated operational reserves. 
R.I.S.E. - Reaching for Individual Success Everyday  
This new congregated classroom proposal was presented to and approved by the Board for the 2023-2024 school year.  This local program would replace the programs we currently have to outsource out of our area for students who require specific and targeted interventions.  The program will promote healing, resilience and growth through collaboration with families, community partners and mental health partners.  

Education Plan
The Board approved 2023-24 updates to their 2022-26 Education Plan.

Locally Developed Courses
The Board authorized the following courses for use within Wild Rose School Division:
Advanced Acting/Touring Theatre
Creative Writing and Publishing
Dance
Fire Rescue Services
Painting
Student Centered Learning
Unified English Braille
Umbrella School Council meetings, Honouring Spirit Indigenous Student Awards, Culture Camps, Collegiate Schools, New Curriculum Professional Learning, Family Oriented Programming, Pre-Kindergarten Program, Powerhouse Campus Logo