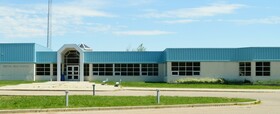 Yesterday, Education Minister Adriana LaGrange announced provincial funding for new, replacement, and modernized schools in Alberta. The announcement included approved design funding for modernization and rightsizing of Breton High School and the demolition of Breton Elementary School. The intent would be to modernize, through construction, Breton High into one K-12 school, serving all of the students in the community
"The Board of Trustees has been advocating with Alberta Education for right-sizing solutions to some of our aging schools," says Daryl Scott, Board Chair. "Today we are thrilled that the government is funding this project that will benefit the students, families, and community of Breton."
The approved design funding includes the preparation of construction tender documents such as drawings, specifications, and permits. Construction funding will wait to be approved in a future budget. Wild Rose School Division will receive more detailed funding information from Alberta Education in the coming weeks and will share project plans as they become available.
"This investment shows the value placed on all Alberta students, including our vital rural communities" says Scott. "We are looking forward to collaborating with key stakeholders as we move forward on this project."
Breton is one of 20 Alberta school design projects announced by the Minister, along with 13 full construction, 14 planning, and 11 pre-planning projects. For more information, visit www.alberta.ca.