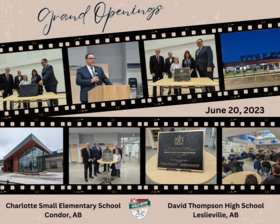 The Wild Rose School Division Board of Trustees and administration were pleased to host the grand openings of Charlotte Small Elementary School in Condor and David Thompson High School in Leslieville on the evening of June 20th. In addition to parents, staff and community members, we were pleased to have representation from the Government of Alberta, Alberta Infrastructure as well as Clearwater County Council and administration. Guest speakers included MLA Jason Nixon, WRSD Trustee Penni Loughheed, Clearwater County Reeve Daryl Loughheed, Charlotte Small Elementary School principal Cheryl Kalev, David Thompson High School Principal Miles Trieber and WRSD Superintendent of Schools Brad Volkman. 
The opening of these two new schools is the result of many years of work, collaboration and vision. We are very thankful to the Government of Alberta for supporting and funding the construction of these two new schools as well as the demolitions of the old David Thompson High School situated beside highway 11 and the previous Condor and Leslieville Elementary Schools. We are especially thankful for the partnerships we have enjoyed with the community fundraising, The Friends of the Corridor,  as well as Clearwater County in terms of providing additional funds to enhance these two school projects. These extra funds resulted in a larger kitchen in Charlotte Small Elementary School and a larger gym and shop in David Thompson High School then would otherwise have been possible. 
WRSD is very thankful for the collaboration, dedication and contribution of all those that helped make this dream a reality. We look forward to providing many years of excellent educational services to the students and families of the corridor through these two new schools.