View All Division News
Canadian Heritage Honoured by WRSD Trustees, Naming Replacement School After Charlotte Small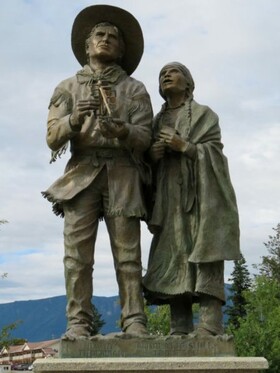 At the April 20, 2021 meeting of the Wild Rose School Division Board of Trustees, the Board chose the name Charlotte Small Elementary School for the K-6 replacement school currently being built in Condor, Alberta. The Board based its decision on input from a corridor community survey.
Previously, at the March 23, 2021 Board meeting, they chose the name David Thompson High School for the Grade 7-12 replacement school being built in Leslieville.
These two new schools are replacing the current elementary schools in Condor and Leslieville as well as the David Thompson High School on the highway named after him. 
David Thompson has a long history in this area and he is famously recognized for the land mass he mapped which amounted to 3.9 million square kilometres (1.5 million square miles) of wilderness (one-fifth of the continent).  The name David Thompson for the current high school has represented the school and the community well for over 60 years. David Thompson married Charlotte Small on June 10, 1799, at Île-à-la-Crosse, Saskatchewan.
Charlotte Small and David Thompson raised 13 children together as they travelled as a family while David surveyed and made maps of unexplored Canada. Charlotte Small travelled thousands of kilometres across North America by foot, canoe, and horseback, helping to map its extensive lands and waterways. Daughter of a Scottish North West Company trader and a Cree mother she retired to Montréal, far from her roots, all while maintaining a remarkable 57 year marriage. Small exemplifies the many Aboriginal women who shared their lives with fur traders, bringing their knowledge of language, culture and survival skills to 18th and 19th century trade and exploration.
We are pleased with the choices of the complementing school names, Charlotte Small Elementary School and David Thompson High School, and believe they are a fitting tribute to the couple that represent so many positive attributes and achievements, and will continue to represent the area and it's long traditions and history.