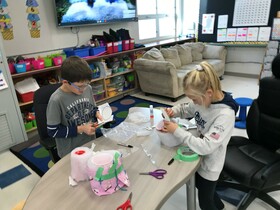 Wild Rose School Division Re-Entry Update
July 23, 2020
This afternoon, the Government of Alberta has officially announced their decision to start the 2020-21 school year using scenario 1. This means that daily in-school classes for all schools in Wild Rose School Division will resume for all students effective August 31, 2020. 
This scenario includes several new provincial safety strategies aimed at reducing the potential spread of COVID-19. In general these strategies include:
hand hygiene & respiratory etiquette
physical distancing
use of cohorts
increased frequency of cleaning and disinfection
having staff and students stay home when ill.
Wild Rose School Division divisional administration will be meeting with all of our school administrators in the coming days to review the re-entry documents provided by the government. From these documents we will be finalizing specific re-entry guidelines for all WRSD schools, students, staff and parents that will provide a greater understanding of what school will look like starting the 2020-21 school year and what we will be doing to help protect our students and staff. In the meantime, please feel free to see the following sources of information regarding the K-12 re-entry of Alberta students:
Please be assured that the safety and well-being of students and staff continues to be our top priority and we will continue to follow the protocols established by Alberta Education, Alberta Health Services and the Chief Medical Officer.
We plan to have our Re-entry Guidelines completed and posted on the WRSD website, school websites and social media sites by August 7, 2020. Thank you again for your patience and understanding as we move forward with our plans for re-entry for the 2020-21 school year.  We are looking forward to having all of our students and staff back together again for the start of the 2020-21 school year.
Comments
Please consider offering option B (blended and/or staggered) Also there was absolutely no information provided about bussing. As I've watched the numbers rise again I will be exploring any and all alternative options before I even consider sending my children back onto a crammed school bus then into a crammed school.
Covid scam. This is Outta control. B clean.
What plans will be put into place for parents who refuse to make their children guinea pigs in a pandemic? What protections will be put into place for teachers who value the lives of their students/families/co-workers/selves?
Mary Jane Fradette
Posted
My daughter has asthma. I am not ok with her going to school. I can get the doctor to back me up because he doesn't fell it's safe for her to go back. Is there a way for her to go to school online?
On August 7th we will be posting detailed re-entry guidelines outlining all of the new safety protocols that will be used in our schools for the purpose of reducing the spread of COVID-19 among our students and staff. This will include new protocols for our buses. Although scenario 1 does mean all of our students are able to return to school and ride our buses starting August 31, daily school routines will be much different compared to the past based on these new safety protocols. We will also continue to follow all of the recommendations provided by Alberta Health Services and the Chief Medical Officer.
School Divisions do not have the authority to choose between scenario 1 or scenario 2 or scenario 3. The Government of Alberta has the sole authority in this matter based on the advice of the Chief Medical Officer. They have determined that all school divisions will start the school year with scenario 1 where all students are welcome back to school on a daily basis with additional health and safety measures in place. If the Chief Medical Officer decides during the year that one of our schools or communities must move to scenario 2, we will at that time set up a schedule where the students from that particular school or community would attend half time on alternating days.
We understand that there will be some students and staff with unique health or medical conditions that may require additional accommodations in order to return safely. In some cases, students may need to continue with teacher directed at-home instruction much like all of our students received during the final months of the 2019-20 school year. On August 7th we will be sending a letter to all parents and staff asking if they require any special accommodations in order to return safely. We will also ask parents to register for teacher directed at-home instruction if this is required for their child or children. Once we know how many students require at-home instruction, we will assign teachers who are able to focus on offering quality on-line instruction to this group of students. Safety of our students and staff will continue to be our top priority and we take very seriously our responsibility to provide quality learning opportunities for all of our students.

Thank you Brad Volkman for your comment on July 22. As a parent that will not be able to send my child to physical school, even with ensured safety precautions, I appreciate you notifying us of the upcomming letter giving us the option to notify you of such circumstances. I look forward to learning more about these options - and am relieved to know that wrsd is providing this (as opposed to having to switch districts to an unknown online format).

Thanks again!

Stay safe and happy.
Food for thought..
Be mindful: what happens .....

• If a teacher tests positive for COVID-19 are they required to quarantine for 2-3 weeks? Is their sick leave covered, paid?

• If that teacher (think FSL) has 5 classes a day with 30 students each, do all 150 of those students need to then stay home and quarantine for 14 days?

• Do all 150 of those students now have to get tested? Are the tests happening at school? How are the parents being notified? Does everyone in each of those kids' families need to get tested?

? most schools/classrooms do not have desks. They use tables and there are 2-4 students per table. How are the schools/school boards able to get the kids to social distance when our class sizes are so big?

? What about playgrounds/recess/physical education. How are the schools/schools boards going to enforce social distancing? Are these children going to end up getting reprimanded for something they don't fully understand? If so, how is that fair to a child to tell them that they cannot play with their friends? How is it fair to a parent to try to explain to their child that they can't have a social life in school?

? What about High School students, are these students going to get reprimanded for not following social distancing rules? Not fair to the students for schools/school boards/Alberta Education to take education away/inforce fines, etc

• What if someone who lives in the same house as a teacher tests positive? Does that teacher now need to take 14 days off of work to quarantine? Is that time off covered? Paid?

• Where is the district going to find a substitute teacher who will work in a classroom full of exposed, possibly infected students for substitute pay?

• Substitutes teach in multiple schools. What if they are diagnosed with COVID-19? Do all the kids in each school now have to quarantine and get tested?

• What if a student in your kid's class tests positive? What if your kid tests positive? Does every other student and teacher they have been around quarantine? Do we all get notified who is infected and when? Or because of privacy will teachers just get mysterious "may have been in contact" emails all year long (kind of like the lice letter?)

• What is this stress going to do to our teachers? How does it affect their health and well-being? How does it affect their ability to teach? How does it affect the quality of education they are able to provide? What is it going to do to our kids? What are the long-term effects of consistently being stressed out?

?what happens if a child has a cough and it's just seasonal allergies? Is the school going to send that child home until that child gets a negative result from Covid testing?

? what if a child is throwing up, will they be required to get tested?

• How will it affect students and faculty when the first teacher in their school dies from this? The first parent of a student who brought it home? The first kid?

• our children are growing up during a pandemic. If they graduate late b/c of this it won't ruin their lives.

I honestly think the governments and school boards need to reconsider opening schools up. Especially since there is such a high worry about community transmission.

What about how a teacher or child may feel?! Here is some food for thought:

What about how teachers and kids may feel when back in school? Here is some food for thought:

Hi! Welcome to Kindergarten! I'm your teacher??????, I'm so happy you are in my class! ???? Sorry you can't see my smile. ???? Please don't be frightened, please don't cry...if I could I would hold your hand & guide you down the hall, but I need to keep my distance. ???? Is that your new friend? ???? Please back away! Don't get near anyone. We need to be safe!! No, I'm not on fire. It's called fog because I'm human and I'm breathing. What's the question...Is COVID-19 killing humans? ???? What did your mom & dad say? ???? I'm not sure how to answer that. ???? Let's just learn our letter sounds. This is "b". See my lips, how they tighten and we press together to make that sound? Oh, that's right...you can't see my lips and you can't hear well because my mouth is covered & you're too far away and you're confused & all I want to do is hug you! ???? you can't see me because I'm wearing this mask with a shield over my face. Oh, no, hunny. It's ok. I'm not scary. I'm smiling at you underneath all of this. Come hold my hand... ummm...nevermind. Let me give you a hug...errr...Let's take a look at all the toys we will play with this year. Bummer, that's right. Nevermind. We can't share toys this year. But hey, you're going to meet so many new friends in Kindergarten! You'll get to play with them and..... Well, not play, play with them. I mean like you'll be six feet apart and you'll each play with your own stuff.... That's fun, right? Well, anyways, here's our library. We can't have books on the shelves. You can't touch the same books as your classmates because of those silly little germs! Instead, I'll give you these black and white paper books that I stapled together and put in your very own cardboard box! You can take it to your seat aaaaalllllllll the way over here. I'll be aaaalllllll the way over there if you need me. Ok, now let's see if you can write your name.... ummmm, that's not how you hold your pencil, here, let me show you. I'll put my hand over your hand and guide you...oh, I mean, let me just show you how to hold it. Put your pointer finger...no that's not pointer...oh, shucks. Nevermind, we'll be using computers most of the time anyways, who needs to learn pencil grip?! Here's your Chrome Book????. Isn't it cool? No, it's not a touch screen like your mommy's phone or your tablet.... that's a keyboard it has letters on it. Yes I'm going to teach you how to use it. No, that's the number 1 not the letter L. I know, they look the same. But I'm sure you'll be fine working online from home 3 days a week and coming to school 2 days a week, that won't be at all Confusing, now will it?
What's that? You want to learn how to read? We will try the best we can..... Why are you crying? You're hot with that mask on? Me too. Do you want a drink of water? No wait, We can't use that water fountain anymore. You're tired? I know, me too! Welcome to Kindergarten in 2020!
How do we go about schooling our child from home if we are not comfortable with sending them to school at the beggininning of the year? I am wanting to wait and see how things go. My son has asthma and I am not comfortable sending him as I really don't think returning full time is a good idea.