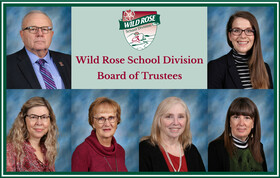 2022-2023 Spring Budget
The Board reviewed the budget presented by the Associate Superintendent, Business & Finance, including the funding grants, operational costs, staffing, class sizes and comparisons to previous years.  They approved the budget with a predicted deficit of approximately $1.4 million.  The division will use reserves to cover the deficit, however this is not sustainable.  The board will be engaging with stakeholders later this month and next school year to make the difficult decisions required to balance the next budget.  The complete budget package will be posted to the website by the end of this month. 
2022-2026 Education Plan
The Superintendent presented the Education Plan and reviewed the key highlights.  The board will review their plan regularly in order to ensure that the division continues to meet its goals.  Schools will be completing their plans by the end of June and all of them will be posted to the WRSD website.
Hate Symbol & Discrimination Policy
After meeting with Liam Bolton last month, this board committed to creating a policy that acknowledges respect, empathy, compassion and learning are critical for achieving equity.  Policy 22 - Hate Symbols & Discrimination has been shared with our stakeholders and we will collect feedback until June 26, 2022 before finalizing.
June Board Meeting Date
Due to a conflict, our June Board Meeting will now be held on Monday June 20, 2022.
Indigenous Languages in Education Project, New Curriculum, Capital Project Update