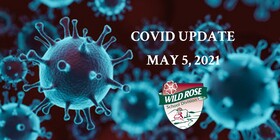 The Government of Alberta announced on May 4 that all students in grades K-12 will temporarily transition back to at-home learning effective May 7 through to May 21. The first day back to in-school classes will be Tuesday, May 25 after the long weekend. Please note that students with disabilities or specialized supports at all grade levels can continue to access services in school during this time. Our schools will be in contact with parents of students with disabilities prior to May 10 to discuss further details.
During this two-week shift, grade K-6 learning outcomes will focus primarily on literacy and numeracy. Other subject areas will be put on hold until the students return to school on May 25. All grade 7-12 learning outcomes will continue as usual, much like took place in December.
May 7 was originally scheduled to be a non-instructional day for our schools in the South and May 10 was originally scheduled to be a non-instructional day for our schools in the North. We have decided to make a slight change by making May 7 a non-instructional day for all our schools and students. This will give our school staff some time to prepare for the next two weeks of at-home learning. At-home learning will begin for all schools and all students on May 10. 
Our schools will be open to all students on May 6. This will give students and staff the opportunity to prepare and gather together any supplies they will need to take home for the next two weeks of at-home learning. Our schools will also remain open during this two-week shift for parents and students to pick up anything required for online learning.
We know that this is a very challenging time. Please reach out to your school for support as needed. Please also take note of the following on-line government links that can answer many of your questions and provide support:
We are confident that this two week shift to at-home learning will help keep our students,staff and communities safe while learning continues. Most importantly, these temporary measures along with the province's vaccination program are part of a larger set of provincial measures that are aimed at reducing the recent increase of COVID-19 cases in our communities and schools. By following these new measures, we can look forward to the return of all students to school on May 25 and finish the school year strongly with students and staff learning together in school. Thank you for your assistance in making this happen.