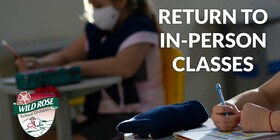 On November 24th, Alberta's government introduced a series of new COVID-19 measures that impacted all K-12 Schools and Pre K. These temporary measures were set to be in place from November 30, 2020 through to Jan 8, 2021. These measures called for a return to in-person classes for all students starting on January 11, 2021. Yesterday, the Hon. Adriana LaGrange confirmed via Twitter that students will be returning on this date. This morning, also via Twitter, Premier Jason Kenney reaffirmed the education minister's comments and all students are currently set to return to in-school learning on Monday, January 11.
The students in our at-home learning program since the start of the school year will continue with at-home learning throughout this time. Students will have an opportunity to potentially move into or out of the at-home learning program on February 1, 2021.
Upon the return to in-person classes, all measures included in the WRSD Re-Entry Guidelines will continue to be in effect. It is particularly important for parents to keep their children home when they have symptoms and to contact their school principal immediately if their child has tested positive for COVID-19. This will ensure that the school can investigate who in the school would be considered close contacts and would also need to isolate. 
Diploma exams are optional for the rest of the school year. Students and families can choose to write an exam or receive an exemption for the January, April, June and August 2021 exams.
We know that this is a very challenging time for many. Please reach out to your school for support as needed. Please also take note of the following on-line government links that can answer many of your questions and provide support:
We are confident that as we all work together to continue to implement these measures, it will help keep our students and staff safe while learning continues. Should the situation change, we will be communicating this out to our communities in a timely manner. We look forward to having students back in our schools, working with our caring staff.