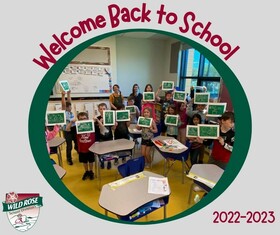 We are excited to welcome everyone back for the 2022-23 school year starting September 1.  If you have any questions regarding the start of the school year, please contact your school office. You can find school contact information here.
All public health restrictions related to COVID-19 have been lifted for the start of the 2022-23 school year.  However, as a school division we care very much about student and staff health and wellbeing. As such, we will continue to emphasize hand hygiene, respiratory etiquette and staying home from school when feeling sick. Following these practices will help reduce the transmission of illness in our schools and the accompanying student and staff absences that might otherwise occur. Although masks are not required, our schools will continue to support those who wish to wear a mask while at school.
Wild Rose School Division is committed to creating powerful learning environments that focus on student learning and wellbeing. We believe this is best accomplished through shared efforts and good communication between school, home and community. Together we can look forward to a great 2022-23 school year!