Wild Rose School Division Celebrates Education Week
April 29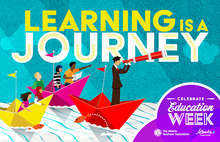 Education Week runs from April 27 to May 1 across the province of Alberta and this year's theme is "Learning is a Journey". The Wild Rose School Division Board of Trustees would like to acknowledge the unique journey, challenges and successes being experienced by our students, staff and families during this time of at-home education.
We want to thank and recognize our school staff for their dedication and creative solutions in the delivery of at-home instruction to our students. Board Chair Russ Hickman says, "Our school staff are discovering new instructional delivery methods during this time and in doing so are serving as excellent role models of learning to their students."  We are thankful for the commitment of our staff, knowing that many of them are experiencing various pandemic related challenges of their own while at the same time doing everything they can to deliver high quality at-home instruction to their students. See some examples of their amazing work on twitter: #WRSDproud, #WRSDworkfromhome and #WRSDstillatwork.
We recognize the families and caregivers of our students, who are acting as partners in learning in helping their children engage with online lessons. We acknowledge that in many cases this is happening with additional challenges of sudden unemployment, illness or other pandemic related stresses at home. We are sensitive to these realities as we attempt to connect our students to at-home learning.
We recognize our students who are demonstrating resilience in learning and well being as they adapt to online instruction. We know many students are missing the friends, teachers and support staff they are accustomed to having at school. We are proud of the way our students are engaging in online lessons and doing the best they can during this challenging time.
Russ Hickman says, "We would like to thank our Senior Leadership Team for their dedication and professionalism while supporting schools in our mission to continue providing powerful learning to our students during this time."
Although this year's learning journey has been difficult and while we may not know what the immediate future of education looks like right now, we do know there are reasons to celebrate thanks to our staff, students and families. Together we have shown that we will continue to provide powerful learning environments that improve the life chances of all students.