WRSD Adds Five New Propane Busses
September 5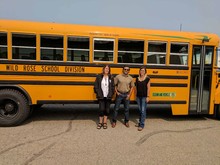 Over the Summer WRSD purchased five new propane busses. Each one of these new propane busses will displace 40,000 gallons of diesel and emit 150,000 fewer pounds of carbon dioxide over their lifetime. Compared to diesel busses they are quieter so drivers can better hear children and they perform better in cold temperatures. Using these busses will allow WRSD to provide cleaner student transportation while also saving money on maintenance.

"The purchase of these busses is very exciting for us here in WRSD," stated Transportation Manager, Linda Britton. "Compared to diesel these propane buses will be a far better, cheaper option for the Division moving forward."

Currently, we operate approximately fifty of our own busses in the southern part of our Division. This summer the Transportation Department worked diligently to ensure all 50 busses are in tip-top shape. On August 24 our drivers participated in a safety meeting that ensured they are armed with the latest information necessary to safely deliver students to and from school each day.  Please remember that when the alternating red lights are flashing, that means it is illegal for motorists to pass a school bus. A driver caught breaking this law faces a $543 ticket and six demerit points. The only exception is when motorists are travelling in the opposite direction on a divided highway, and even in those instances, a driver should exercise caution and keep an eye out for pedestrians.