View All Division News
WRSD Divisional Professional Learning Day - Understanding the Spirit and Intent of Treaties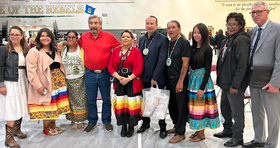 On August 31 WRSD hosted a professional learning day for all staff focused on the history of treaties and their connection to truth and reconciliation.  All of the speakers were from Treaty 6 Territory. 
Each of the speakers gave us difficult truths to think about, but did so with humour and 
grace.  We were reminded that learning leads to humility and that our voice is our greatest gift.  As a school division we want to use our collective voice to advance the cause of truth and reconciliation in our schools and in our communities.