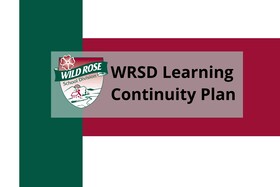 This morning, the Alberta Government cancelled all diploma exams for this school year. In addition, they have released further information and guidelines regarding learning continuity for students. For more on Wild Rose School Division's Learning Continuity plan, please click here. We have also put together a list of FAQs for parents.
Comments
When will schools reopened
would like to know if if I sign my kids up for teacher learning at home, can I still send them to school. As I would like to send them to school, but also would like to be prepared in case they have to stay home
Greg Wedman (Deputy Superintendent)
Posted
Hi Shauna, if things change and your children need to stay home, we would work to continue their learning. It is not necessary to sign up for the Teacher-Directed at Home Learning, if you plan to send them to school to start the year.