WRSD Student Wins 2017 Alberta Great Kids Award
May 15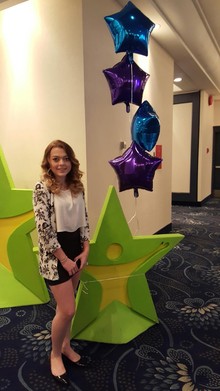 Wild Rose School Division is excited to announce that H.W. Pickup grade nine student, Taija Dryden has been selected, along with 15 other children, for the 2017 Alberta Great Kids Award. The Great Kids Award is given out to children and youth who connect to their communities and play useful roles within them. The award shows children and youth in Alberta communities that their value is being recognized.
"I knew very early on that I would not let this awful disease define me. Instead, I made the decision to use my experience as a tool to get the word out about juvenile dermatomyositis, a word that at the time I couldn't even pronounce," stated Taija Dryden. "I never expected to win. I knew my name had been submitted but I just thought there are so many more children going through so much more."
Taija was selected for this award because of her triumphs in the face adversity. When she was nine years old Taiji was diagnosed with Juvenile Dermatomyositis, a disease with no cure that causes a rash, fatigue and extreme pain and weakness. At a young age Taiji had a tough choice to make, she could either let her body take power over her life or she could take power over it. She decided to use her situation for good and to serve as a mentor for her friends, family and community.
"Taija is an amazing child, student, and leader not only in her school but her community as well." stated her previous H.W. Pickup Leadership Teacher, Shannon Gallant. "Taija is one of those students who is willing to try anything.  She puts 110 percent into everything she does and includes as many people she can to assist her. This girl is a ray of sunshine that radiates positive energy wherever she is."
She was determined to go to school as often as she could and made volunteering within her school and community a regular occurrence as well. Even when she didn't feel well, she would push to go to school. She has spent many days and months in and out of hospitals but instead of complaining, she uses her time there to help other kids who are sick. Taija is an example of strength, determination and hope that can help keep people going on good and bad days. She reminds everyone that disease does not define an individual and inspires people every day.