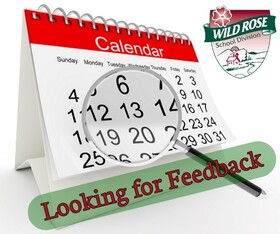 At the September 15 Board meeting, the WRSD Board of Trustees granted approval in principle to the 2021-22 school year calendar. The Draft 2021-2022 WRSD Staff Calendar can be viewed here. Please note the tabs at the bottom for both North (Drayton Valley & Breton) and South (Rocky Mountain House, Caroline & Leslieville/Condor). We are asking for feedback from our communities on the draft calendar. Please use this form to provide your feedback. This form will remain open until October 16. We appreciate your feedback and will attempt to answer your questions, where appropriate.
Comments
I like this draft calendar. I believe previous feedback on other years has been reflected in this one. Thank you!
I appreciate this calendar's attention to the working parent. Fridays are good days to have off and spread out through the year makes it easier to take those days off. Also I like the start and finish dates. Good job.