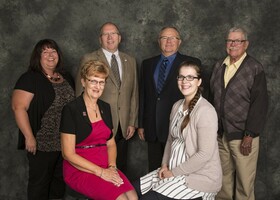 Change to AP 505 Student Fees
The Board of Trustees approved the proposed changes to AP 505 Student Fees as presented in in Administrative Procedure 505 to address the Alberta Education Minister's request.


Board Work Plan
The Board approved the 2017-2018 work plan as presented. Click here to view the plan.


The following items were discussed in the Superintendent's Report. For more information click on the link above:
2017-18 Division Office Personnel Changes
2017-18 School Administrator Changes
First Nations, Metis & Inuit Supports
Draft Administrative Procedures Update


WRSD Summer Institute
David Thompson High School Modernization Update
Evergreen Elementary School Modernization Update
2017-18 School Fee Schedule & Student Fees Administrative Procedure
2017-18 Classroom Improvement Fund Grant Proposal
Provincial Technology Leadership Event (August, 2017)
Flex Learning Government Conversation (August, 2017)
Alberta Rural Education Symposium
Wild Rose School Division Nutrition Project Update
Canadian Association of School System Administrators Conference (July, 2017)