Board Highlights - March 21, 2017
March 24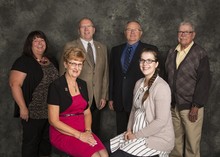 TBAC TERMS OF REFERENCE
The Board approved the initiation of a discussion with the ATA Local at the May TBAC meeting to replace the current Teacher Board Advisory Committee terms of reference. The new terms can be found here in the minutes.  
Evergreen School Decanting
The Board approved the reconfiguration of the Drayton Valley Schools starting in the 2017-2018 school year until the Evergreen School project is compete. The reconfiguration is as follows:
Evergreen School: closed
Eldorado School: grades K - 4
Aurora School: grades K - 4
Drayton Christian School: grades K-9 (unchanged)
HW Pickup: grades 5 - 8
FMHS: grades 9 - 12
The Board also approved that in the third and final year of the project community feedback will be gathered regarding the configuration of all WRSD schools in Drayton Valley.
Three-Year Capital Plan
The Board approved the 2018-2021 Three-Year Capital Plan identified here. This plan recognizes that the past number one priority, Evergreen Elementary Remediation has been approved and now lists the Ecole Rocky elementary Modernization & Parking Lot as number one.
The following items were discussed in the Superintendent's Report. For more information click on the link above:
Administrative Review Update
First Nations Metis Inuit Collaboration
Umbrella School Council Meetings Update
Pre-Kindergarten Program in Lochearn School


WRSD Edwin Parr Nomine
French Immersion Interest in Drayton Valley
 Print Version - Board Highlights - March 21, 2017