Board Highlights - May 23, 2017
May 30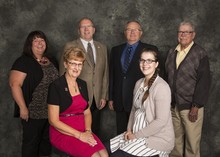 Adjustment of 2016-2017 School Calendar for Evergreen School Modular Classrooms
The Board approved an adjustment of the school calendar for the students in the Evergreen School Modular Classrooms so they would end school on June 23, 2017 instead of June 29, 2017. This change will help ensure the modulars are ready to go for the start of the 2017-2018 school year at H.W. Pickup.
Locally Developed Course Approval
The Board approved the authorization for the locally developed courses, Directing 25/35 for use in WRSD.
H.W. Pickup Name Change
The Board approved the renaming of H.W. Pickup Junior High to be H.W. Pickup School starting on September 1, 2017.
The following items were discussed in the Superintendent's Report. For more information click on the link above:
First Nations Metis Inuit Collaboration
Provincial Nutrition Program update
Alberta School Councils' Association Collaboration
Bill 1 and 2017-18 School Fee Process


New Curriculum Scope and Sequence/Subject Introduction Draft Release
Input to Alberta Education
Drayton Valley decanting plan
Bus Hub Barrier Painting update
 Print Version - Board Highlights - May 23, 2017