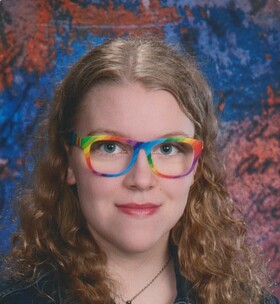 Wild Rose School Division is very proud to announce Philippa Madill as a recipient of the very prestigious Schulich Leader Scholarship.
Local Drayton Valley student, Philippa Madill will graduate from Frank Maddock High School this June, and pursue her post secondary education at the University of Calgary this fall.
Earlier this month, Philippa was notified that she had been selected as a Schulich Leader Scholarship recipient.   The scholarship rewards students who are pursuing degrees in a Science, Technology, Engineering or Math (STEM) program and rewards entrepreneurial-minded students who exemplify at least two of the following criteria; academic excellence, leadership, financial need.
This very coveted award is presented to 100 well deserving students across Canada in 20 different Universities.  Every high school in Canada can nominate one graduating student each year to apply for the scholarship, and Philippa was nominated by her principal at Frank Maddock High School, Shelly Cloke.
Philippa will be pursuing an Engineering and Computer Science double degree over 5 years at the University of Calgary, in preparation for a career in robotics and artificial intelligence.  The $80,000 award will ensure Philippa can devote her full time and attention to her studies.  Schulich Leaders are high potential students who will make game-changing contributions to society.
Philippa is an excellent representative for Frank Maddock High School and Wild Rose School Division, having demonstrated outstanding leadership abilities, commitment to her community and excellent academic achievements.  Philippa's passion for math enabled her to fast track her studies, completing 5 high school level math courses in three school years, earning top marks.  In addition, Philippa has been recognized with numerous other accolades for her philanthropy work in the community.
We are very proud of Philippa's accomplishments and know she has a very bright future ahead.