View All Division News
Melissa McQueen - Prime Minister's Awards for Teaching Excellence Certificate of Achievement Recipient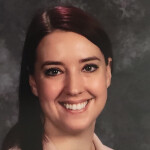 The recipients of the Prime Minister's Awards for Teaching Excellence have been announced and Wild Rose School Division is excited to announce that Frank Maddock High School Teacher, Melissa McQueen has been recognized with a certificate of achievement.
This prestigious award recognizes exceptional elementary and secondary school teachers in all disciplines, and are honoured for their remarkable achievements in education and for their commitment to student achievement.
Award winners are selected via a rigorous two-tier process that involves over 140 volunteers, with each nomination package being reviewed by up to four regional evaluators.  Melissa was one of seven award winners from Alberta.
"I am honoured and privileged to receive the Prime Minister's award of achievement", says Melissa. "My hope is that every student comes into my classroom knowing that they are capable of greatness, and I can be there for them on that journey. I am grateful to be part of a division that allows me the opportunity to push myself to do my best for my students."
Ms. McQueen teaches high school social studies and drama in Drayton Valley, where she provides her students with the learning freedom that allows them to progress using their own strengths and abilities. She also monitors the progress and challenges of each student so that no one is left behind.
The outstanding achievements that contributed to Melissa receiving this award include her ability to establish a comfortable rapport with students and their families. She uses that familiarity and comfort to push students beyond their initial emotional barriers toward uncomfortable ideas (e.g., how what they say or do can perpetuate racism). Through what she has learned from social psychology, she teaches her students about the defenses that might arise when they talk about difficult subjects and then works with them to persevere through their discomfort (e.g., through more helpful coping mechanisms). Some of this is accomplished as a class, but she also takes great pains to provide one-on-one support for students who need to work through their emotions.
Frank Maddock High School Principal, Lara Jollymore says:  "The FMHS Admin Team is excited that Ms. McQueen has been recognized with a Prime Minister Teaching Award.  She is a teacher who is fully committed to building an amazing school learning culture and a place where students thrive and feel connected.  She is reflective, collaborative and maintains a growth mindset.  We are a better team by having her at Frank Maddock High School."
Congratulations Melissa!