New Principal of Drayton Valley Community Outreach School
May 28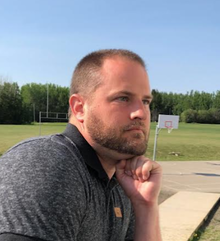 Wild Rose School Division is pleased to announce that Mike (Michael) Rosentreter is our successful candidate for the DVCOS Principalship.  
Mike says "I am very excited about the opportunity to be the principal of DVCOS. It is a great school and I look forward to working with the staff to continue to help kids reach their goal of graduating from high school. I have seen the challenges facing education I also see the opportunities ahead of us that we need to pursue. I would like to thank the students, staff, and community of HW Pickup for the journey and wish them the best. It was a privilege to be apart of that school."
Mike has been teaching for 15 years, the last 5 have been as an administrator in WRSD. Mike is excited to join the team at DVCOS and is looking forward to continuing the the great work as they make a tremendous positive difference in the lives of the students they serve!  Welcome to the "big chair" Mike.