Stefanie Denham Selected as WRSD Edwin Parr Representative
April 18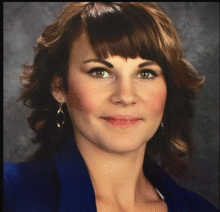 WRSD is excited to announce Stefanie Denham as the representative for the Zone 4 Edwin Parr Award for beginning teachers. Ms. Denham is currently teaching grade four and five at École Rocky Elementary.
Ms. Denham was chosen to represent WRSD based on her outstanding planning, positive approach, ability to use a wide array of teaching strategies and dedication to inspiring students.
"From the very start of her time with us, it was clear Stefanie was going to provide us with something special," said École Rocky Elementary Principal, Bill Snyder. "Ms. Denham consistently demonstrates the knowledge, skills and attributes necessary for success in the classroom. Her students are engaged and excited about their learning. Genuine affection and mutual respect are clearly evident between Ms. Denham and her students. Stefanie works hard to 'catch kids doing good'. Stefanie is a reflective practitioner and is constantly looking for new strategies and resources to improve her teaching. She routinely volunteers her time and energy to many school-wide initiatives and activities. Stefanie has even facilitated professional development sessions for her colleagues."
Ms. Denham graduated from the University of Alberta through the Red Deer College Middle Years Program with a Bachelor of Education in 2016. When she isn't teaching Stefanie enjoys instructing dance, singing, acting and travelling.

"I was ecstatic to find out I had been selected as a candidate for this award. It is a great honor to be chosen as the representative of Wild Rose School Division, where I completed my own education," said École Rocky Elementary Teacher, Stefanie Denham. "I love my job, my school, and especially my students. Winning an award like this shows that my dedication to my students and school is being noticed and recognized by others, which is absolutely thrilling as a first-year teacher."
The Edwin Parr Award is given to first-year teachers in Alberta who demonstrate outstanding work. It was first created in 1964 and has always been known as an award that represents quality teaching and outstanding work.  This year having Stefanie represent WRSD continues the long tradition of sending fine teachers to stand for us at the zone level.