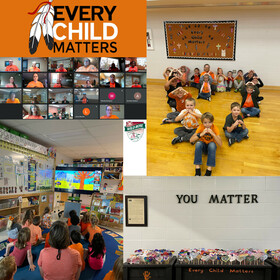 On September 30, 2021 all 18 schools in Wild Rose School Division held activities for their students and staff to acknowledge Orange Shirt Day and the National Day for Truth & Reconciliation. The WRSD division office staff also took part in this important day of reflection.
We were reminded of our nation's painful past regarding lost indigenous children and Survivors of residential schools. This is a truth that was not told for many years and one that needs to be told to each new generation of students in our schools.
We were reminded of the need for all of us to be reconciled to the indigenous peoples of Canada and within our own communities. The reconciliation process is important because it's about how we treat each other as fellow human beings and the kind of relationships and communities and schools we want to build for the future. Reconciliation is about establishing and maintaining a mutually respectful relationship between all people. 
The National Day for Truth and Reconciliation reminds us of a time when our non-indigenous communities did not demonstrate respect to the indigenous peoples who came before us on this land. This acknowledgement is an important part of the reconciliation process.
It is also important to remember that this is not something we do just once a year on September 30, but rather, that we all need to be purposeful about recognizing opportunities whenever or wherever they arise, to speak this truth and pursue this reconciliation.
To find out how Orange Shirt Day got started and to find out more about the importance of truth and reconciliation, please see this video.
Wild Rose School Division would like to thank Timberline ATA Local No. 9 for graciously partnering with us to provide the orange shirts worn by staff members and to help acknowledge Orange Shirt Day.
For more pictures of WRSD acknowledging Orange Shirt Day, click here.