Board Highlights - August 20, 2019
August 21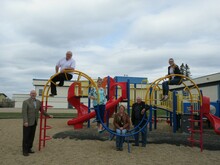 Board Highlights - August 20, 2019
Superintendent's Summer Work, Corridor Capital Plan update, Evergreen Elementary Replacement School update, Summer 2019 Maintenance Projects, Contracted Transportation Services update, New Curriculum update, Apprenticeship Opportunities.
Mike Lundstrom, Director of Facilities and Maintenance provided an overview of the projects his team have been working on over the summer.  Many have been completed and a lot of them will be completed by the first day of school. The maintenance team has been very busy this summer.
Kristen Disley, Director of Transportation gave an update to the contracted bus services starting in the south this school year.  The transition should be seamless to parents and students as many drivers and routes will remain the same.

Karen McGregor, Microsoft Canada Education Team
Karen joined the meeting with Jaymon Lefebvre, our Director of IT Services and Scott Hetherington, Senior Systems Analyst to discuss the partnership WRSD has with Microsoft and the four year journey that has brought revolutionary change to our Technology department.  Wild Rose School Division's move to the cloud (Microsoft Azure) is complete. This has eliminated the need for local data centers, resulted in substantial capital expenditure savings, and has increased service levels and enhanced security and privacy compliance. Microsoft provides all of these services as a carbon neutral service.  
This partnership puts Wild Rose School Division in a position to be able to keep pace with the rapidly shifting cloud services model Microsoft is moving to. We're ready for the future.
Jaymon and Scott will be presenting at Microsoft's Connected Learning Conference for educational institutions, hoping to engage the sector with a demonstration of a fully cloud hosted datacenter model and that pathway to achievement.
Board Meetings and Dates
Dates were chosen for School Council Umbrella Meetings, School Tours, and the Boards desire to meet with municipalities, neighbouring Catholic School Boards and MLA's.  Formats for the meetings were decided upon and we look forward to meeting with our school councils and community partners.

Wild Rose School Division - Capital Plan
The Board made a motion to update our capital plan for the Drayton Valley schools and submit it to Alberta Education by the requested deadline in early September.   An official news release will be coming shortly with more details.