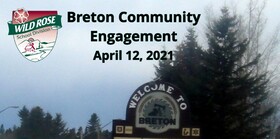 Wild Rose School Division
Breton Community Engagement
April 12, 2021

Wild Rose School Division will be taking part in the virtual school council meeting hosted by Breton High School at 5:00p.m. on April 12, 2021. At this school council meeting, the Board of Trustees and senior administration will be sharing information regarding the division's capital plans for both Breton Elementary School and Breton High School. This plan involves the modernization of Breton High School into a K-12 school and the eventual demolition of Breton Elementary School. At this virtual meeting, we will share details of this plan and address any questions or concerns from the community.
In preparation for this meeting we are inviting interested community members to use the following form to submit questions ahead of time. We will be accepting questions using this form until April 7, 2021. If time permits, we will also take additional questions during the meeting on April 12.
Thank you in advance for your interest in this capital plan to provide modernized school facilities in Breton that are efficient and effective in terms of 21st century learning.