Director of Maintenance and Facilities
May 9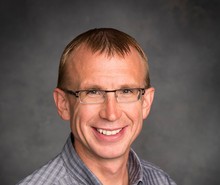 Wild Rose School Division is pleased to announce the return of Mike Lundstrom as our new Director of Maintenance and Facilities.
Mike previously had 16 years of experience working in WRSD as a Lead Hand Plumber and Gas Fitter, Maintenance Supervisor and most recently as the Manager of Maintenance & Facilities.  He rejoins WRSD after a brief stint as the Facility Management Supervisor for the city of Red Deer.
In addition to his many years of experience in maintenance and facilities, Mike is a Certified Educational Facility Manager, 4th class Power Engineer, Journeyman Plumber, Journeyman Gas Fitter A and possesses 3rd year Electrical Technical Training.
"I look forward to working with Wild Rose School Division once again. Although I appreciated my experiences and new learnings while working for the city of Red Deer, I realize that my heart and skills are best suited for education maintenance and facilities."  
Mike will begin his duties as WRSD Director of Maintenance and Facilities on May 28, 2018.