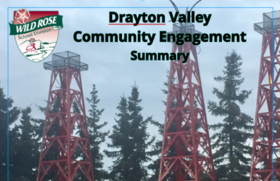 Wild Rose School Division would like to thank all those who attended our May 5 virtual community engagement meeting to discuss the new replacement school being built in Drayton Valley. Once completed, this new school will be home to two of our schools under one large campus roof: H.W. Pickup School and Drayton Christian School. The current DCS/Eldorado and H.W. Pickup school buildings will be demolished after the opening of the new replacement school.
At this meeting the school division shared information regarding the following:
Capital plan process for new capital projects
Details of why this project came into being so quickly and with little community engagement
Design process for the new school
Drawings and renderings of the new school (Stantec Engineering Services)
Naming Committee and a community survey to seek input regarding the name of the new school
Q&A based on questions submitted from the community ahead of time (see below) as well as additional questions that came up during the meeting.

If anyone has further questions, please do not hesitate to email us at contactus@wrsd.ca.