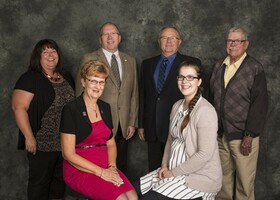 Indigenous Awareness Training
The Board of Trustees approved Trustee Tryon's attendance of the Indigenous Awareness Training event in Drayton Valley on September 21.
Emily Baum - Diploma Exams Success
The Board of Trustees acknowledged and received information about Emily Baum who received three perfect scores on her diploma exams in Chemistry 30, Physics 30 and Math 30-1. For more information on this accomplishment click here.
The Board received a communications update on Website Training & Maintenance, Team Drive and Social Media.
The following items were discussed in the Superintendent's Report. For more information click on the link above:
First Nation, Metis & Inuit Supports
David Thompson High School Modernization
Evergreen Elementary School Modernization
2017-2018 School Fee Schedule
Invitation to Discuss Education Legislation
Drayton Valley and Brazeau County Thank You Letter
2016-2017 WRSD Staff ThoughtExchange Survey
United Conservative Party meeting
Print Version - Board Highlights - September 19, 2017